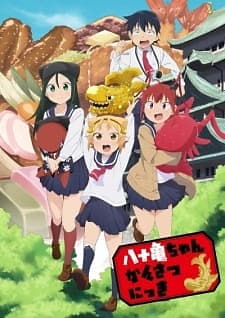 Kaito Jin adalah murid kelas 2 SMA yang pindah dari Tokyo ke Aichi. Dia bertemu dengan Yatogame Monaka yang memiliki dialek Nagoya yang kental. Dia pun mempelajari tentang Nagoya dengan bergabung ke klub fotografi.
Information
Titles: Yatogame-chan Kansatsu Nikki
Japanese: 八十亀ちゃんかんさつにっき
English:
Synonyms:
Type : TV
Total Episode: Unknown
Status: Currently Airing
Released on: Apr 4, 2019 to ?
Licensors: None Found
Studios: Creators in Pack, Saetta
Source: 4-koma manga
Genre : Comedy, School, Shounen, Slice of Life
Duration: 3 min.
Rating: None
Score: 6.16