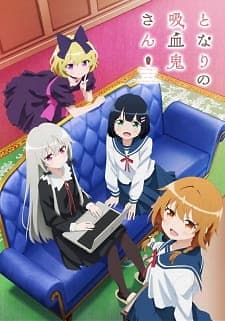 Komedi vampir modern yang berfokus pada seorang gadis SMA bernama Amano, yang telah diselamatkan dari insiden aneh oleh gadis vampir, Sophie Twilight. Walaupun vampir, Sophie tidak pernah menyerang manusia, akan tetapi dia membeli darah dan barang-barang yang berhubungan dengan anime melalui surat dan dia menjalani hidup secara modern.
Information
Titles: Tonari no Kyuuketsuki-san
Japanese: となりの吸血鬼さん
English: Ms. vampire who lives in my neighborhood.
Synonyms:
Type : TV
Total Episode: 12
Status: Finished Airing
Released on: Oct 5, 2018 to Dec 21, 2018
Licensors: None Found
Studios: Studio Gokumi, AXsiZ
Source: 4-koma manga
Genre : Comedy, Shoujo Ai, Slice of Life, Supernatural, Vampire
Duration: 23 min. per ep.
Rating: PG-13 - Teens 13 or older
Score: 7.20