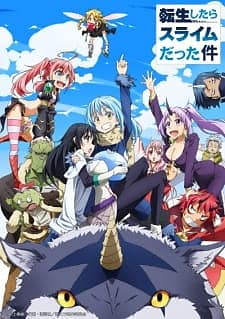 Mikami Satoru, lelaki berusia tiga puluh tujuh tahun yang terjebak dalam pekerjaan membosankan dan tak senang dengan kehidupan biasanya. Tapi, setelah ditikam oleh seorang perampok, ia terbangun di dunia fantasi …, sebagai slime. Saat ia menyesuaikan diri dengan keadaannya, hubungannya dengan monster lain memicu serangkaian peristiwa yang akan mengubah dunianya!
Information
Titles: Tensei shitara Slime Datta Ken
Japanese: 転生したらスライムだった件
English: That Time I Got Reincarnated as a Slime
Synonyms: TenSura
Type : TV
Total Episode: 24
Status: Currently Airing
Released on: Oct 2, 2018 to ?
Licensors: Funimation
Studios: 8bit
Source: Manga
Duration: 23 min. per ep.
Rating: PG-13 - Teens 13 or older
Score: 8.32