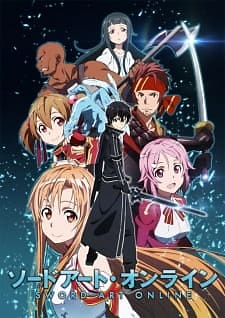 Pada tahun 2022, sebuah game virtual reality yang dapat dimainkan secara masal dirilis ke pengguna. Game tersebut bernama Sword Art Online (SAO). Dengan menggunakan NerveGear, berupa helm yang digunakan pemain untuk mengontrol karakter game mengikuti pikiran pemain. Pada tanggal 6 November, sebanyak 10.000 pemain login ke SAO untuk pertama kalinya dan menyadari bahwa mereka tidak bisa logout. Mereka dipaksa harus mencapai ke kastil lantai 100 untuk mengalahkan bos terakhir agar dapat bebas. Mereka yang mengalami kekalahan dalam game, atau pun melepas NerveGear sebelum selesai permainan akan mengakibatkan kematian di kehidupan nyata mereka.
*Tambahan: kualitas videonya udah BD semua senpai, selamat menikmati 🙂
Information
Titles: Sword Art Online
Japanese: ソードアート・オンライン
English: Sword Art Online
Synonyms: S.A.O, SAO
Type : TV
Total Episode: 25
Status: Finished Airing
Released on: Jul 8, 2012 to Dec 23, 2012
Licensors: Aniplex of America
Studios: A-1 Pictures
Source: Light novel
Genre : Action, Adventure, Fantasy, Game, Romance
Duration: 23 min. per ep.
Rating: PG-13 - Teens 13 or older
Score: 7.59