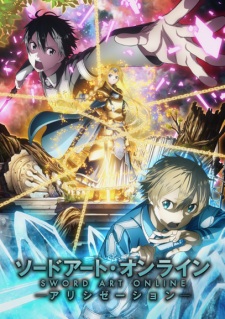 Cerita dalam lakon Alicization dimulai setelah kejadian di kisah Mother's Rosario di mana Kirito dihubungi oleh pihak JSDF untuk melakukan uji coba dari sistem Rath yang menggunakan perangkat Full Dive generasi baru bernama Soul Translator (STL), sebagai bagian dari Project Alicization. Dalam uji coba tersebut Kirito menjalani kehidupan di dunia virtual bernama Underworld. Di sanalah ia menjadi teman dekat dengan Eugeo dan Alice. Namun di tengah menjalani uji coba tersebut, Kirito tiba-tiba mendapat serangan dari salah satu pelaku kasus Death Gun. Serangan itu membuat Kirito berada dalam kondisi kritis. Sebagai salah satu cara untuk menyelamatkan Kirito, Kikuoka diam-diam membawa Kirito ke fasilitas rahasia milik militer dan menggunakan Soul Translator untuk menyembuhkan luka di otak Kirito akibat serangan tersebut. Karena menggunakan Soul Translator, selama tidak sadarkan diri, kesadaran Kirito masuk ke dunia Underworld, sebuah dunia virtual yang alur waktunya ribuan kali lebih cepat dibandingkan dunia nyata berkat adanya teknologi bernama Fluct Light Acceleration.
Information
Titles: Sword Art Online: Alicization
Japanese: ソードアート・オンライン アリシゼーション
English: Sword Art Online: Alicization
Synonyms:
Type : TV
Total Episode: Unknown
Status: Currently Airing
Released on: Oct 7, 2018 to ?
Licensors: Aniplex of America
Studios: A-1 Pictures
Source: Light novel
Genre : Action, Adventure, Fantasy, Game, Romance
Duration: 24 min.
Rating: PG-13 - Teens 13 or older
Score: 8.14