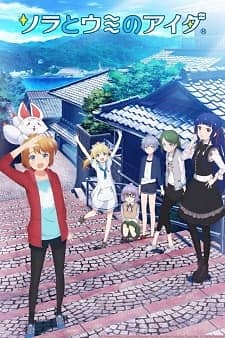 Berlatar cerita di Kota Onomichi, Hiroshima tahun 20XX. Ikan laut di seluruh dunia menghilang dan belum penyebabnya masih belum diketahui. Oleh karena itu, Kementerian Perikanan memutuskan untuk melakukan eksperimen dengan membangun kolam ikan luar angkasa. Persatuan Perikanan Luar Angkasa Onomichi didirikan dan mulai melatih nelayan luar angkasa. Enam gadis nelayan baru telah terpilih, dan menjadi pusat cerita dari anime ini.
Information
Titles: Sora to Umi no Aida
Japanese: ソラとウミのアイダ
English: Between the Sky and Sea
Synonyms:
Type : TV
Total Episode: 12
Status: Finished Airing
Released on: Oct 4, 2018 to Dec 20, 2018
Licensors: Sentai Filmworks
Studios: TMS Entertainment
Source: Game
Genre : Adventure, Fantasy, Sci-Fi, Space
Duration: 23 min. per ep.
Rating: PG-13 - Teens 13 or older
Score: 5.55