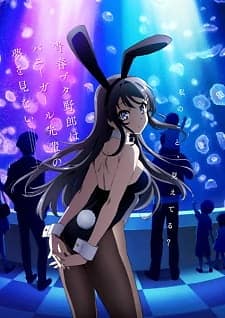 Ada desas-desus mengenai fenomena misterius yang disebut Sindrom Pubertas. Misalnya, Azusagawa Sakuta adalah seorang siswa SMA yang tiba-tiba melihat gadis kelinci muncul di depannya. Gadis itu adalah Sakurajima Mai, kakak kelas Sakuta dan juga seorang aktris terkenal yang telah hiatus dari dunia hiburan. Karena suatu alasan, orang-orang di sekitar Mai tidak bisa melihat sosoknya saat ia memakai kostum kelinci. Sakuta tergerak untuk memecahkan misteri ini dan ketika ia menghabiskan waktu dengan Mai, ia mulai mempelajari perasaan rahasianya. Di saat yang sama, pemilik Sindrom Pubertas lain mulai muncul di hadapan Sakuta.
Information
Titles: Seishun Buta Yarou wa Bunny Girl Senpai no Yume wo Minai
Japanese: 青春ブタ野郎はバニーガール先輩の夢を見ない
English: Rascal Does Not Dream of Bunny Girl Senpai
Synonyms:
Type : TV
Total Episode: 13
Status: Currently Airing
Released on: Oct 4, 2018 to ?
Licensors: Aniplex of America
Studios: CloverWorks
Source: Light novel
Genre : Comedy, Romance, School, Supernatural
Duration: 24 min. per ep.
Rating: PG-13 - Teens 13 or older
Score: 8.61