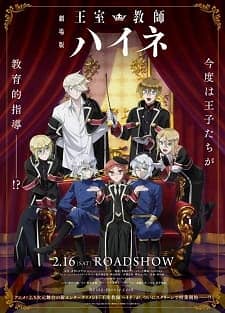 Keempat pangeran Kerajaan Glanzreich menjadi kandidat raja berikutnya. Di bawah bimbingan guru kerajaan Heine Wittgenstein, sembari mengatasi rintangan dan keraguan, mereka tumbuh sedikit demi sedikit.
Lalu muncul pangeran kembar dari Kerajaan Romano. Meski para pangeran ini terlihat lucu, mereka sebenarnya sangat sadis! Menghadapi masalah yang belum pernah terjadi, Heine dan keempat pangeran melakukan "pembelajaran"?!
Information
Titles: Oushitsu Kyoushi Heine Movie
Japanese: 劇場 王室教師ハイネ
English: The Royal Tutor Movie
Synonyms: Oushitsu Kyoushi Haine Movie
Type : Movie
Total Episode: 1
Status: Finished Airing
Released on: Feb 16, 2019
Licensors: None Found
Studios: tear-studio
Source: Manga
Genre : Comedy, Historical, Seinen, Slice of Life
Duration: 1 hr.
Rating: PG-13 - Teens 13 or older
Score: 7.21