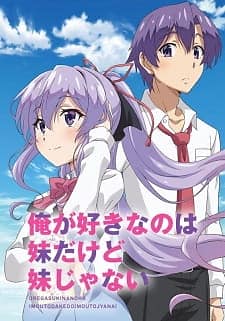 Suzuka merupakan siswi cantik kelas tiga SMP yang mempunyai prestasi dibidang akademik dan juga dia menjabat sebagai ketua OSIS. Dia menulis sebuah novel tentang seorang adik perempuan yang menyayangi kakak lelakinya, dan novel itu memenangkan Light Novel Award. Setelah membahas masalah ini, Yuu memulai debut penulis light novel dan menggantikan Suzuka, dengan nama pena Chikai Towano.
Information
Titles: Ore ga Suki nano wa Imouto dakedo Imouto ja Nai
Japanese: 俺が好きなのは妹だけど妹じゃない
English: My Sister, My Writer
Synonyms: The One I Love Is a Little Sister, but She's Not My Little Sister
Type : TV
Total Episode: 10
Status: Currently Airing
Released on: Oct 10, 2018 to ?
Licensors: None Found
Studios: NAZ, Magia Doraglier
Source: Light novel
Genre : Comedy, Ecchi, Romance
Duration: 23 min. per ep.
Rating: PG-13 - Teens 13 or older
Score: 5.15