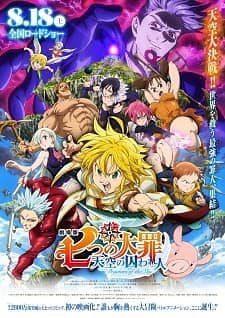 Para Tujuh Dosa Besar pergi ke pulau terasing untuk menemukan "ikan langit". Meliodas dan Hawk sampai di "Kuil Langit" yang berada di atas awan. Semua penghuni di sana mempunyai sayap. Meliodas dijebloskan ke penjara karena dianggap sebagai anak jahat. Sementara itu, semua penduduk sedang mempersiapkan upacara untuk menghadapi hewan buas yang terbangun masing-masing 3000 tahun sekali. Akan tetapi, pasukan klan iblis, Enam Ksatria Hitam datang dan melepas segel hewan itu, Kuil Langit dalam situasi bahaya.
Information
Titles: Nanatsu no Taizai Movie: Tenkuu no Torawarebito
Japanese: 劇場版 七つの大罪 天空の囚われ人
English:
Synonyms: The Seven Deadly Sins Movie: Prisoners of the Sky
Type : Movie
Total Episode: 1
Status: Finished Airing
Released on: Aug 18, 2018
Licensors: None Found
Studios: A-1 Pictures
Source: Manga
Genre : Action, Adventure, Fantasy, Magic, Shounen, Supernatural
Duration: 1 hr. 39 min.
Rating: PG-13 - Teens 13 or older
Score: 7.88