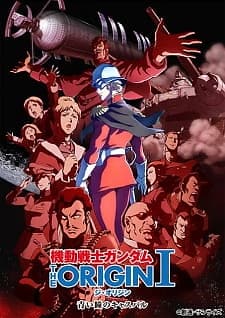 Tragedi apa yang mengubah takdir Char Aznable, yang dikemudian hari menjadi pilot handal pasukan Zeon yang dijuluki "Red Comet", serta adiknya Sayla Mass?
Ini adalah kisah perjalanan kakak beradik, yang diawali oleh kematian ayah mereka Zeon Zum Deikun, seorang pemimpin penduduk ruang angkasa, yang dikisahkan dalam 4 episode "Kisah Char dan Sayla"
Keluarga Zabi yang memegang kuasa di Sisi-3 dan memimpin Kerajaan Zeon, sejarah dari beberapa pilot handal Zeon yang akan bertarung dalam Perang Satu Tahun, rahasia pengembangan Mobile Suit, konflik dengan Pasukan Federasi Bumi, dan asal mula terjadinya perang—semua akan terungkap.
Information
Titles: Mobile Suit Gundam: The Origin
Japanese: 機動戦士ガンダムTHE ORIGIN
English: Mobile Suit Gundam: The Origin
Synonyms: Kidou Senshi Gundam: The Origin
Type : OVA
Total Episode: 6
Status: Finished Airing
Released on: Apr 24, 2015 to May 5, 2018
Licensors: NYAV Post
Studios: Sunrise
Source: Manga
Genre : Action, Mecha, Military, Sci-Fi, Shounen, Space
Duration: 1 hr. 11 min. per ep.
Rating: R+ - Mild Nudity
Score: 8.41