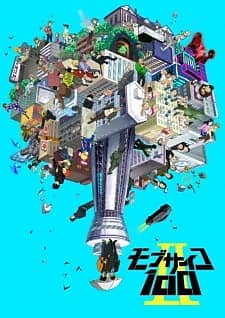 Musim kedua dari anime Mob Psycho 100. Yang menceritakan seorang anak esper (memiliki kekuatan super) yang ingin menjalani kehidupan normalnya meski memiliki kekuatan luar biasa. Pada akhir S1, Mob dkk berhasil menghancurkan sebuah organisasi esper jahat bernama Tsume. Namun sayangnya yang mereka kalahkan itu hanyalah cabang organisasinya. Sedangkan organisasi utamanya masih misterius. Akankah di musim kedua ini, Mob dkk akan berhadapan dengan Tsume lagi?
Information
Titles: Mob Psycho 100 II
Japanese: モブサイコ100 II
English: Mob Psycho 100
Synonyms: Mob Psycho 100 2nd Season, Mob Psycho Hyaku, Mob Psycho One Hundred
Type : TV
Total Episode: Unknown
Status: Currently Airing
Released on: Jan 7, 2019 to ?
Licensors: Crunchyroll
Studios: Bones
Source: Web manga
Genre : Action, Comedy, Slice of Life, Supernatural
Duration: 24 min.
Rating: PG-13 - Teens 13 or older
Score: 8.84