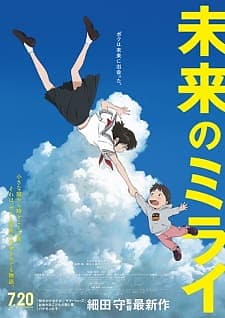 Saat Kun-chan yang berusia empat tahun bertemu dengan adik perempuannya yang baru lahir, dunianya mulai tidak karuan. Adiknya diberi nama Mirai (artinya "masa depan"), bayi itu dengan cepat memenangkan hati seluruh anggota keluarga Kun-chan. Saat ibunya kembali bekerja, dan ayahnya mengurus rumah tangga, Kun-chan menjadi semakin cemburu pada Mirai… Sampai suatu hari dia pergi ke taman, di sana dia bertemu dengan orang asing dari masa lalu dan masa depan — termasuk adik perempuannya, Mirai, masa remaja. Kun-chan dan Mirai remaja melakukan perjalanan melalui ruang dan waktu, mengungkap kisah luar biasa keluarga mereka. Tapi kenapa Mirai datang dari masa depan?
Information
Titles: Mirai no Mirai
Japanese: 未来のミライ
English: Mirai
Synonyms: Mirai of the Future
Type : Movie
Total Episode: 1
Status: Finished Airing
Released on: Jul 20, 2018
Licensors: NYAV Post, GKIDS
Studios: Studio Chizu
Source: Original
Genre : Adventure, Drama, Fantasy
Duration: 1 hr. 38 min.
Rating: G - All Ages
Score: 7.55