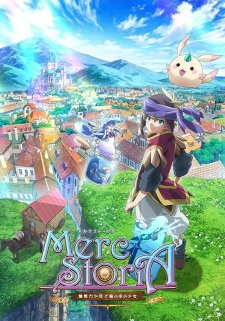 Merc Storia mengambil tempat di dunia di mana manusia dan monster hidup berdampingan. Tokoh protagonis, Yuu, adalah seorang dukun penyembuh dan memiliki kemampuan untuk menjinakkan monster. Dalam upaya untuk mendapatkan kembali kenangan Merc, seorang gadis yang terkurung dalam botol, pasangan itu memulai perjalanan.
Information
Titles: Merc Storia: Mukiryoku no Shounen to Bin no Naka no Shoujo
Japanese: メルクストーリア -無気力少年と瓶の中の少女-
English:
Synonyms:
Type : TV
Total Episode: 12
Status: Currently Airing
Released on: Oct 11, 2018 to ?
Licensors: None Found
Studios: Encourage Films
Source: Game
Genre : Action, Adventure, Fantasy, Magic
Duration: 23 min. per ep.
Rating: PG-13 - Teens 13 or older
Score: 6.14