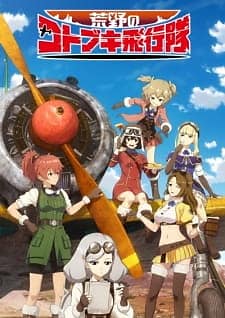 Di perbatasan tandus di mana orang berdagang barang satu sama lain untuk saling membantu bertahan hidup. Skuadron Kotobuki adalah pengawal untuk disewa, dipimpin oleh seorang pemimpin skuadron yang ketat tapi cantik, seorang komandan yang tidak bisa diandalkan, dan pengrajin kepala kru yang benar. Bersama pilot yang tidak kekurangan kepribadian, mereka mengudara dalam pertempuran udara, membiarkan suara mesin pesawat tempur Hayabusa mereka berdering di langit.
Information
Titles: Kouya no Kotobuki Hikoutai
Japanese: 荒野のコトブキ飛行隊
English: The Magnificent Kotobuki
Synonyms: The Kotobuki Squadron in the Wilderness
Type : TV
Total Episode: Unknown
Status: Currently Airing
Released on: Jan 13, 2019 to ?
Licensors: None Found
Studios: WAO World, GEMBA
Source: Original
Genre : Action, Adventure, Military
Duration: 24 min.
Rating: None
Score: 6.51