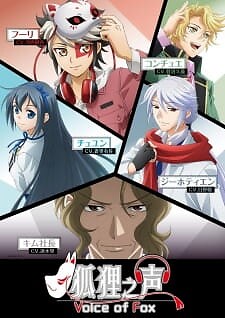 Furi seorang anak SMA yang miskin tapi berbakat. Ia seorang penyanyi dan pencipta lagu untuk Kong Que, idol pria populer dan narsis yang tampan namun tak pandai bernyanyi. Furi selalu memakai topeng rubah untuk menyembunyikan bekas luka di wajahnya. Di setiap karya musik yang dirilisnya secara online, ia menggunakan nama samaran: Mr. Fox.
Information
Titles: Kitsune no Koe
Japanese: 狐狸之声
English: Voice of Fox
Synonyms: Kori no Koe
Type : TV
Total Episode: Unknown
Status: Currently Airing
Released on: Oct 5, 2018 to ?
Licensors: None Found
Studios: Yumeta Company
Source: Manga
Genre : Music
Duration: 13 min.
Rating: PG-13 - Teens 13 or older
Score: 6.50