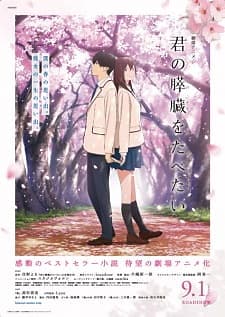 Ketika musim semi di bulan April datang dan bunga sakura masih bermekaran, seorang kutu buku bernama Shiga Haruki menemukan sebuah buku di ruang tunggu rumah sakit. Sampul buku tersebut bertulisan "hidup saat sekarat". Lalu dia tahu kalau buku harian itu adalah milik teman sekelasnya yang sangat populer dan ceria, Yamauchi Sakura. Gadis itu berkata bahwa dia menderita penyakit pankreas dan hanya memiliki waktu yang terbatas. Berusaha untuk mempertahankan kehidupannya senormal mungkin, Sakura memutuskan untuk menjalani kehidupnnya dengan merahasiakan penyakitnya. Karena semangat dan tindakan Sakura yang tak terduga, perasaan Haruki mulai berubah.
Information
Titles: Kimi no Suizou wo Tabetai
Japanese: 君の膵臓をたべたい
English: I want to eat your pancreas
Synonyms: KimiSui, Let Me Eat Your Pancreas
Type : Movie
Total Episode: 1
Status: Finished Airing
Released on: Sep 1, 2018
Licensors: Aniplex of America
Studios: Studio VOLN
Source: Novel
Genre : Drama
Duration: 1 hr. 48 min.
Rating: PG-13 - Teens 13 or older
Score: 8.16