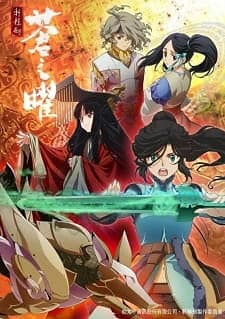 Mengambil kisah dari mitologi Cina, serta tokoh-tokoh historis. Anime ini bercerita tentang Pedang Xuan-Yuan yang digunakan Kekaisaran Kuning untuk mempertahankan Cina lama.
Information
Titles: Ken En Ken: Aoki Kagayaki
Japanese: 軒轅剣・蒼き曜
English: Xuan Yuan Sword Luminary
Synonyms: Xuan-Yuan Sword: Lights of the Bleak
Type : TV
Total Episode: 13
Status: Finished Airing
Released on: Oct 2, 2018 to Dec 25, 2018
Licensors: None Found
Studios: Studio Deen
Source: Game
Genre : Action, Adventure, Demons, Fantasy, Magic, Martial Arts
Duration: 24 min. per ep.
Rating: PG-13 - Teens 13 or older
Score: 6.23