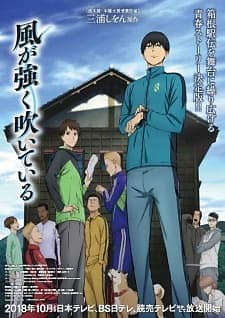 Kakeru adalah mantan pelari elit di SMA dan dikejar karena mencuri makanan. Untungnya dia diselamatkan pelari bernama Haiji seorang mahasiswa dari Universitas Kansei. Haiji membujuk Kakeru untuk tinggal di apartemen tua "Chikuseisou", ia berencana untuk membentuk tim dan memasuki lomba maraton Hakone Ekiden, salah satu lomba antar universitas paling terkenal di Jepang.
Information
Titles: Kaze ga Tsuyoku Fuiteiru
Japanese: 風が強く吹いている
English: Run with the Wind
Synonyms: Kaze ga Tsuyoku Fuite Iru
Type : TV
Total Episode: 23
Status: Currently Airing
Released on: Oct 3, 2018 to ?
Licensors: Sentai Filmworks
Studios: Production I.G
Source: Novel
Duration: 23 min. per ep.
Rating: PG-13 - Teens 13 or older
Score: 7.75