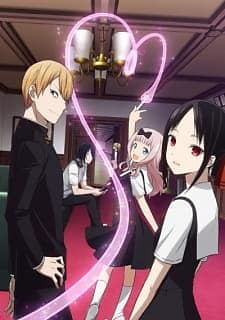 Kaguya Shinomiya dan Miyuki Shirogane, dua orang jenius anggota OSIS Akademi bergengsi, yang menjadikan mereka terelit di kalangan elit. Keduanya memiliki perasaan tertarik satu sama lain, Hanya saja ada satu masalah besar yang menghalangi jalan cinta kasih sayang mereka. Mereka berdua gengsi untuk menjadi orang pertama yang mengakui perasaan romantis mereka. Sehingga perang cinta antara mereka berdua pun dimulai.
Information
Titles: Kaguya-sama wa Kokurasetai: Tensai-tachi no Renai Zunousen
Japanese: かぐや様は告らせたい~天才たちの恋愛頭脳戦~
English: Kaguya-sama: Love is War
Synonyms: Kaguya Wants to be Confessed To: The Geniuses' War of Love and Brains
Type : TV
Total Episode: Unknown
Status: Currently Airing
Released on: Jan 12, 2019 to ?
Licensors: Aniplex of America
Studios: A-1 Pictures
Source: Manga
Genre : Comedy, Psychological, Romance, School, Seinen
Duration: Unknown
Rating: PG-13 - Teens 13 or older
Score: 8.27