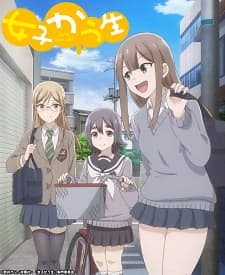 Menceritakan kehidupan 3 cewek SMA tanpa obrolan. Momoko si cantik tapi apes, Shibumi si tenang dan keren, dan Mayumi si cewek polos.
Information
Titles: Joshikausei
Japanese: 女子かう生
English: Joshi Kausei
Synonyms: Jyoshi Kausei
Type : TV
Total Episode: Unknown
Status: Currently Airing
Released on: Apr 6, 2019 to ?
Licensors: None Found
Studios: Seven
Source: Web manga
Genre : Comedy, School, Slice of Life
Duration: 3 min.
Rating: PG-13 - Teens 13 or older
Score: 5.70