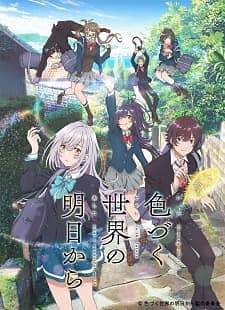 Berlatar cerita di kota Nagasaki, sebagian orang dengan kemampuan sihir masih ada meskipun hanya sedikit. Hitomi Tsukishiro adalah gadis berusia 17 tahun keturunan dari keluarga penyihir. Kohaku, seorang penyihir hebat yang cemas dengan masa depan cucunya, memutuskan untuk mengirim Hitomi ke masa lalu, tahun 2018 dan bertukar tempat dengannya saat masih berusia 17 tahun.
Information
Titles: Irozuku Sekai no Ashita kara
Japanese: 色づく世界の明日から
English: Iroduku: The World in Colors
Synonyms:
Type : TV
Total Episode: 13
Status: Currently Airing
Released on: Oct 6, 2018 to Dec 29, 2018
Licensors: None Found
Studios: P.A. Works
Source: Original
Duration: 24 min. per ep.
Rating: PG-13 - Teens 13 or older
Score: 7.63