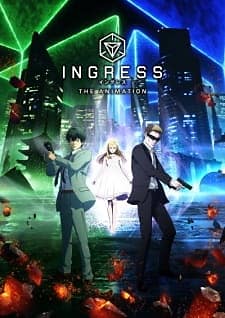 Projek para ilmuwan yang menemukan zat aneh yang mampu mempengaruhi otak manusia. Zat ini disebut "Exotic Matter (XM)", yang sudah ada sejak zaman kuno, mempengaruhi pikiran manusia dan kemajuan umat manusia. Akibat dari penemuan ini, pertartungan antar negara kuat dan perusahaan besar terjadi. Organisasi dari berbagai negara diam-diam berlomba untuk mengeksploitasi XM. Itu artinya umat manusia dapat terancam. Dua kubu yang menginginkan XM. Kubu Enlightened memandang kekuatan XM adalah hadiah untuk meningkatkan pengalaman dan penemuan manusia. Kubu Resistance memandang ZM untuk menguasai pikiran manusia yang kejam, memilih teknologi sebagai jalan terbaik umat manusia.
Information
Titles: Ingress the Animation
Japanese: INGRESS THE ANIMATION
English:
Synonyms:
Type : ONA
Total Episode: 11
Status: Finished Airing
Released on: Oct 18, 2018
Licensors: None Found
Studios: Craftar Studios
Source: Game
Genre : Action, Game, Mystery, Sci-Fi
Duration: 23 min. per ep.
Rating: None
Score: 6.47