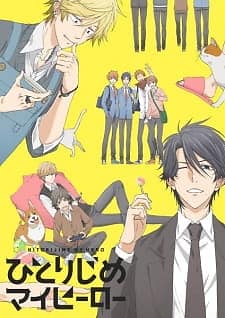 menceritakan tentang kisah yang melibatkan saudara Kensuke, Ooshiba Kousuke dan teman, Setagawa Masahiro dari Pacar Hitorijime. "Sejak saya kehilangannya, saya menginginkannya. Lebih dari segalanya, saya menginginkan tempat untuk menjadi milikku dan ikatan. Aku benci pahlawan. Karena mereka tidak pernah muncul di hadapanku." Saat itulah kawakan Masahiro yang malang bertemu Kousuke alias "beruang pembunuh". Masahiro merindukan sesuatu yang dapat menjadi tempat ia bisa menangis. Kousuke ingin membuka lengannya yang lembut secara luas daripada memiliki kekuatan. Kehangatan itu yang mengetahui emosi. Dia memutuskan bahwa mereka akan bersama selamanya, dan itulah sebabnya Kousuke melepaskannya dari Asaya. Tapi, Asaya tidak bisa melupakan Kousuke. Asaya ingin sekali lagi melihat senyum Kousuke.
Information
Titles: Hitorijime My Hero
Japanese: ひとりじめマイヒーロー
English: Hitorijime My Hero
Synonyms: My Very Own Hero
Type : TV
Total Episode: 12
Status: Finished Airing
Released on: Jul 8, 2017 to Sep 23, 2017
Licensors: Sentai Filmworks
Studios: Encourage Films
Source: Manga
Genre : Drama, Romance, School, Shounen Ai, Slice of Life
Duration: 24 min. per ep.
Rating: PG-13 - Teens 13 or older
Score: 7.61