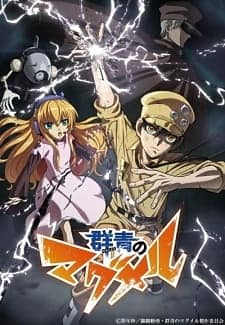 Berkisah mengenai dunia dengan sebuah benua baru bernama Magmell yang muncul tiba-tiba di lautan, era baru penjelajahan pun dimulai. Para penjelajah menuju ke benua tersebut dalam usaha menemukan kehidupan dan sumber alam yang baru, namun para penjelajah tersebut harus menghadapi bencana demi bencana. Manga ini sendiri berfokus pada seorang pemuda misterius yang bekerja sebagai pekerja bantuan untuk membantu para penjelajah.
Information
Titles: Gunjou no Magmel
Japanese: 群青のマグメル
English:
Synonyms: Magmel of the Sea Blue
Type : TV
Total Episode: Unknown
Status: Currently Airing
Released on: Apr 7, 2019 to ?
Licensors: None Found
Studios: Pierrot Plus
Source: Manga
Genre : Action, Adventure, Fantasy, Shounen, Super Power
Duration: Unknown
Rating: None
Score: 7.04