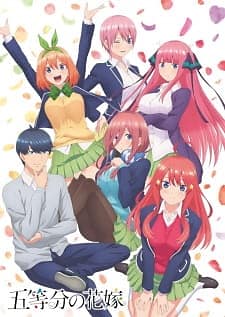 Fuutarou Uesagi, siswa kurang mampu dan anti sosial. Suatu hari, ketika dirinya datang ke rumah seseorang untuk memberikan les privat, ia terkejut mengetahui orang yang akan dibimbingnya ternyata adalah teman kelasnya. Mereka adalah lima gadis kembar yang cantik dan suka berbuat onar. Cerita komedi romantis Futorou bersama lima gadis kembar ini pun dimulai.
Information
Titles: Gotoubun no Hanayome
Japanese: 五等分の花嫁
English:
Synonyms: 5-toubun no Hanayome, The Five Wedded Brides, The Quintessential Quintuplets
Type : TV
Total Episode: Unknown
Status: Currently Airing
Released on: Jan 11, 2019 to ?
Licensors: None Found
Studios: Tezuka Productions
Source: Manga
Genre : Comedy, Harem, Romance, School, Shounen
Duration: Unknown
Rating: None
Score: 7.87