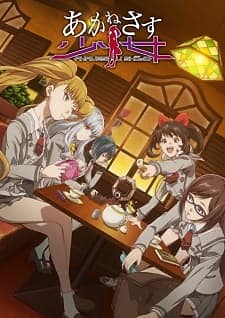 Asuka merupakan salah seorang anggota klub radio yang ceria namun hobi melakukan hal-hal aneh. Suatu hari, dia mengajak para anggota klub lain untuk membuka gerbang ke dunia lain dengan menggunakan sebuah radio. Teman-temannya, yang sudah hafal sifat Asuka, hanya bisa meladeninya. Tanpa diduga, mereka benar-benar berhasil berpindah ke dunia lain. Situasi semakin gawat ketika mereka diserang para monster tak lama setelah masuk ke dunia lain. Untungnya mereka diselamatkan seorang gadis yang memiliki wajah mirip Asuka. Siapa dia sebenarnya? Apa rahasia dibalik dunia tersebut?
Information
Titles: Akanesasu Shoujo
Japanese: あかねさす少女
English: The Girl in Twilight
Synonyms:
Type : TV
Total Episode: 12
Status: Currently Airing
Released on: Oct 1, 2018 to ?
Licensors: Sentai Filmworks, Ponycan USA
Studios: DandeLion Animation Studio, Jumonji
Source: Original
Genre : Action, School, Sci-Fi
Duration: 23 min. per ep.
Rating: PG-13 - Teens 13 or older
Score: 6.11